The Lecture Hall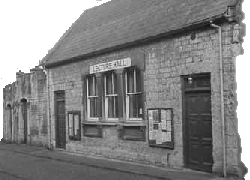 Since the first production Mere Drama Society has been indebted to the goodwill and generosity of the Lecture Hall Trust in providing it with a home.
The wide proscenium arched stage has, over the years, been transformed into a variety of sitting rooms and bedrooms in homes and hotels, into the peaceful villages of Melstock in Under the Greenwood Tree and Llareggub in Under Milk Wood; into the strife torn country of The Caucasian Chalk Circle and into the land where the Bong Tree grows in The Voyage of the Jumblies.
In 1953 the Society began renting the Drama room, conveniently situated within the Lecture Hall complex.
For our 50th Anniversary the room was cleared and redecorated and thanks to a generous donation of paint from Dulux, the help of committee members, and 25 hard working local youngsters, the project was completed in just one weekend.
Many local thespians have climbed the narrow staircase to the room above the Salisbury Street office of Gilyard Scarth, Estate Agents and Chartered Surveyors, formally Walworth & Co.
On performance nights they emerge in makeup and costume and it was difficult to recognise familiar faces in the photographs being exhibited in the Society's celebratory exhibition mounted in the Library during November 2003.